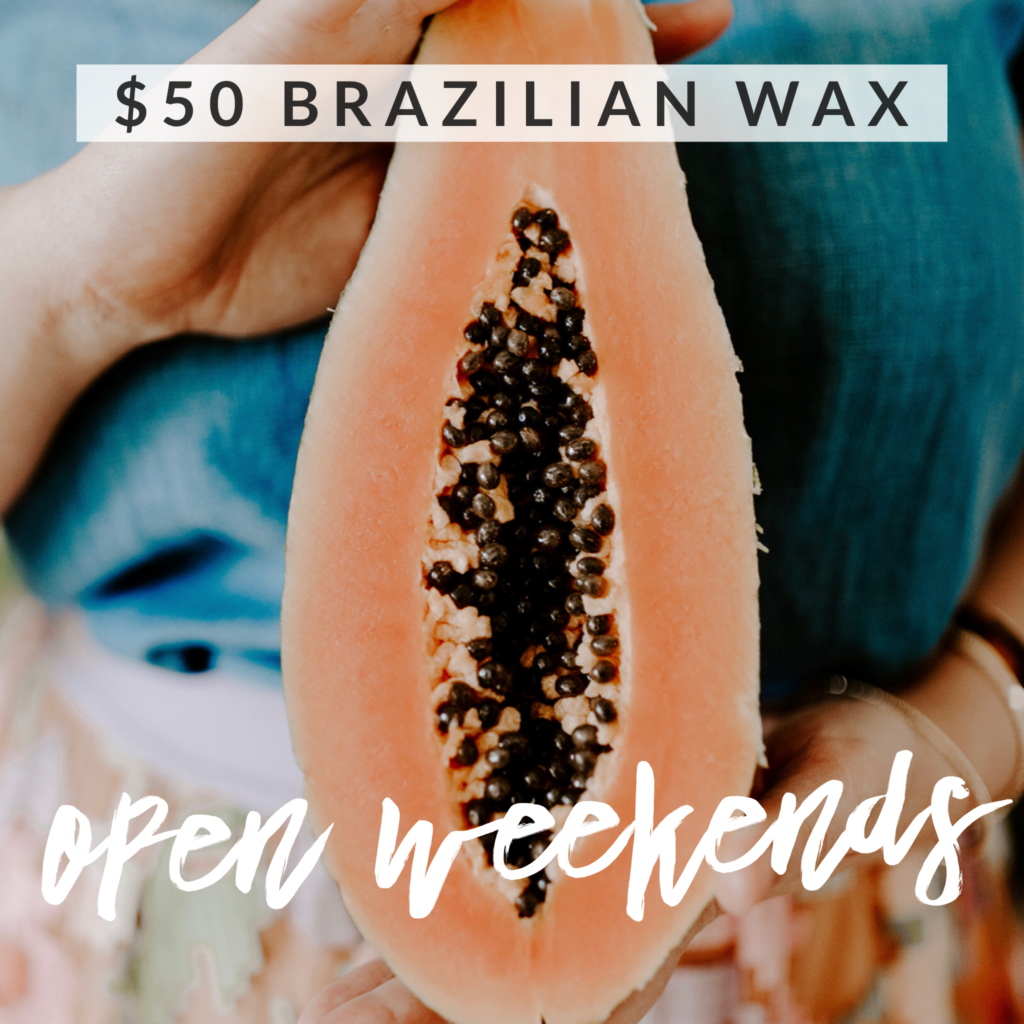 Getting frequent Brazilian Waxes? Want a stellar deal?!  It's super simple:  Just follow these two steps 😎
Step One:
Book a Brazilian New Client Wax (pssst – they're only $50 right now if you've never had a Brazilian wax at Holiday). Your first Brazilian Wax is a 30-minute appointment. That's lotsa time for your service whether it's your first wax ever, it's been a minute since your last wax, or waxes are part of your monthly routine.
Please come 15 minutes early to your first appointment so there's enough time to find Holiday for the first time, use the door code (find it in your confirmation email), use the restroom, complete your Wax Consent form, and take a breath from your day ❤️ And if you get here early there's organic herbal tea to help you unwind.
Step Two:
After your initial appointment, all you have to do is come in for your next wax within 6 weeks. If you're within that timeframe just book yourself the Brazilian Frequent Flyer. It's $50 and a 15-minute appointment. If you're a returning client but wait longer than the 6 week timeframe your wax will be the $65 Brazilian Drop In 30 minute appointment.
No signup or membership necessary. You don't even have to book your next Brazilian Frequent Flyer at checkout. We LOVE our online booking site and it makes it easy for you 💕 Book any time, day or night. Our appointments do fill up, so we recommend booking at least a few days in advance. If you need a specific time, book at least a week ahead (pssst… weekends and 4 pm – 6:30 pm weekday are the busiest times).
How is this deal so bomb?!  The price! The boutique atmosphere! An expert esthetician! The relaxed booking system!
Waxing frequently makes hair short + sparse. This saves time + supplies and allows us to offer the Brazilian Frequent Flyer. We like simple. So book when you have your calendar in front of you and know your schedule. Or book your next one during your appointment.  It's up to you 😊
Brazilian Frequent Flyer Q + A:
What kind of wax do you use?
Mostly hard wax for the Brazilian area. But we do use a combination of hard and soft waxes depending on skin type, condition, and how coarse or fine the hair is. If you have a preference, we're happy to accommodate.
How often should I wax?
The best time for your next service is 4 weeks out – your hair will be short and sparse, making your visit quick and more comfortable. At 8 weeks about 2/3 of your hair has grown in and it's getting long (in terms of appropriate length for waxing). At 12 weeks you will have time traveled back to 1975 and it'll be too late for the Brazilian Frequent Flyer. So make sure to come between 4 and 7 weeks after your last wax.
What are the benefits of waxing frequently?
There are so many! Less irritation and fewer red bumps / ingrowns than shaving. It's not itchy when it grows back (like it is when shaved). Your hair will become sparser and finer over time. Which is awesome! The less of it the better! And you'll feel fresh.
I waited too long and now it's after 6 weeks. Can I still have the deal?
No, sorry. Book the 30 minute $65 Brazilian Drop In. Then you can jump back into the Brazilian Frequent Flyer for your next wax if you make it on time.
How long should my hair be?
Hair should be at least 1/2″ in length. That's usually two weeks after your last shave. If the hair is less than 1/2″ it'll be too short and the wax won't be able to grip it. If the wax can't pick it up, I'm not going to torture you with tweezers. If the hair is much longer than an inch, you'll want to trim prior to your wax. But be careful not to trim under a half inch, otherwise the wax may not be able to grip your hair.
My skin is sensitive. Should I do anything to prepare for my service?
As long as your hair is around the proper length, just arrive for your first appointment a few minutes early to complete a Wax Consent form. Your Licensed Esthetician will prepare the area to be waxed in two steps:
Organic aloe vera to soothe and add a layer of hydration prior to waxing
Organic sesame oil to protect your skin if it's on the dry side
Afterwards, organic sesame oil is applied to release any wax residue, followed by organic aloe vera for soothing.
What about numbing creams prior to my wax?
Numbing creams can be a great option if you're especially sensitive. They need to be applied 30-60 minutes prior to your wax. Do you research and select a product that makes most sense to you if you choose this route.
Can I wax on my period?
Yes, it's ok to wax while on your period so long as you're wearing a tampon. However, the service will be a bit less comfortable due to increased sensitivity during your cycle. The least painful time to wax seems to be at the end or right after your flow. We really don't mind if you're on your period if you're wearing a tampon 🙂
I have sensitive skin. Is it recommended that I apply anything after the session to reduce redness or swelling?
Aloe vera will be applied during your service. Catherine will tell you about the best ways to avoid ingrown hairs in the coming weeks.
Are there other aftercare instructions?
For the first 24 hours after your service it is not recommended to work out or partake in any activities that will leave you excessively sweaty. Your hair follicles will be open during that time and we want to keep them free of sweat and bacteria. You are officially being told to skip the gym 😊
About how long does the service take?
It depends on which esthetician you're seeing. The service duration is listed on the booking site for each esthetician.