spend time being cared for in our space among the plants, crystals, and centering vibes
It's the ultimate container for reconnecting to your most powerful energy source – you!
and feeling good looks even better…
There's something magical about refreshing your look. It illuminates your aura! This is where aligning your five bodies – physical, mental, emotional, energetic, and spiritual – begins. Alignment opens to acceptance which opens to love. And self love is peace.
Your inner glow and outer glow are so inextricably linked that tending to one blooms the other.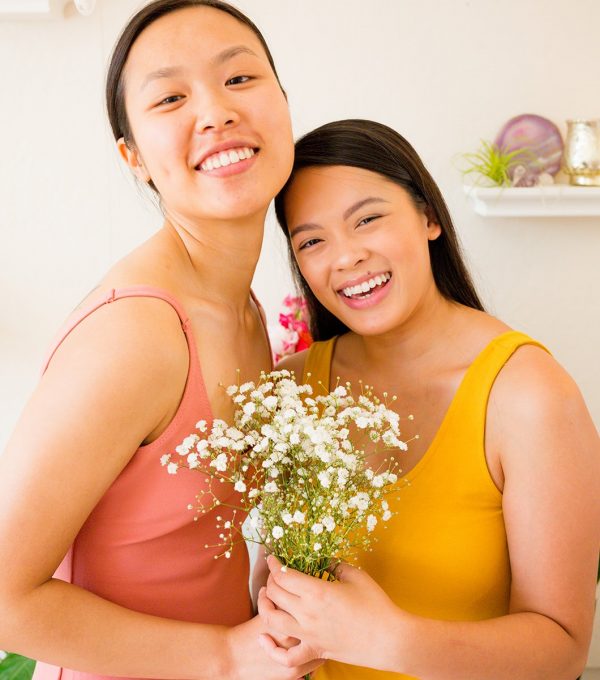 ready to look + feel more like yourself?
effective, plant-derived, clean beauty skincare
to us, it's about avoiding ingredients that cause inflammation
One of the clean beauty brands we respect the most (Hylunia) describes inflammation as: "The natural response of a healthy immune system in its attempt to restrain pathogens and free radicals from entering the body."
They also note that, "Although inflammation is a necessary measure in the process of repairing the body, continuous inflammation leads to premature aging and can lead to chronic diseases as it ultimately alters your DNA. In severe cases of chronic inflammation, fine lines and wrinkles start appearing sooner than they should. As a result, the skin starts to lose its elasticity along with its moisture content, rapidly leading to dry and dull skin." Read more here.
Conventional beauty products frequently contain inflammatory ingredients that have been linked to allergies, hormone disruption, and cancer. "Clean beauty" is an unregulated term in response to a widely unregulated industry. It does not mean the exclusion of synthetic ingredients or synthetic versus natural.
The beauty industry generally uses the term "clean beauty" to define products free from ingredients that have known health concerns. But it can include other definitions for cruelty-free, green sustainability for the environment, and fair trade labor practices, among others. When you find a clean beauty brand, read about what it means to them.
Too long; didn't read: Your skin cells can't look their sparkly, best selves when consistently exposed to inflammatory ingredients found in conventional beauty because the sub-clinical inflammation alters your DNA and your skin's ability to reproduce bright, youthful cells.
clean beauty is in our name
so what does clean beauty mean to us?
…for our curated skin care products:
– Building youthful, glowing skin through the use of plant-derived anti-inflammatory products
– Avoiding ingredients with widely accepted health concerns that arise when the ingredient is used in the appropriate amount for skincare
– When opinions on safety diverge trusting scientific research and recognizing fear and alarmist misconceptions around ingredients with buzz
…for lash and brow treatments:
– Selecting the best options available, given that products for lifting and dyeing lashes and brows continue to use conventional ingredients. Unfortunately hair treatments are behind when it comes to clean beauty. We avoid particular ingredients, including: formaldehyde, ammonia, and coal tar.
…and love(!) products that include organic designations and anti-inflammatory ingredients. Some of our favorites are: beta glucan, niacinamide, grape stem cells, licorice root extract, willow bark extract, calendula, mangosteen, vitamin C, CBD, and turmeric.
…that some ingredients with risks can fit into a clean beauty regimen with the right approach… like retinol (wrinkle reducer), disodium EDTA (preservative + chelating ingredient), and phenoxyethanol (preservative).
Retinol (vitamin A derivatives) is not recommended for pregnant women and can be very irritating to the skin if it's not paired properly with hydrators and skin conditioners. Nonetheless, it remains an incredible agent for youth building and we do not yet have a non-irritating substitute. We love the #skincycling trend coined by Dr. Whitney Bowe. It's a 4 to 5 night routine that rotates products strategically.
Disodium EDTA is a chelating ingredient used to bind and deactivate mineral ions that may be present in a product, also making it a preservative. It helps to disrupt the skin's surface so ingredients may be better absorbed. If the product has additional ingredients that have health concerns then it could be problematic to be paired with disodium EDTA. More information: thedermreview.com 
Phenoxyethanol prevents microbial growth, stabilizes products, and enhances their shelf life. In restricted quantities it is considered safe in skincare by the FDA, CIR, and European Commission on Health and Food Safety. However, the safety concern increases if the product is intended to be inhaled or used on the lips and digested. The lip masks and balms we use do not contain phenoxyethanol. More information: mindbodygreen.com
…the following common ingredients in our curated skincare products due to skin irritation and / or health concerns:
parabens, phthalates, SLS / SLES, fragrance, parfum, chemical sunscreens, resorcinol, talc, petrolatum, DMAE, PEGs, hydroquinone, lanolin, siloxane, ammonium lauryl sulfate, DMDM hydantoin, ethylene glycol, polypropylene glycol, diazolidinyl urea, imidazolidinyl urea, ethanolamines (DEA, MEA, TEA), butylated hydroxyanisole / hydroxytoluene (BHA / BHT, not to be confused with betahydroxy acids), FD&C, D&C
…the following ingredients that are suspected to cause or worsen acne break outs: dimethicone, rose hip oil, unrefined coconut oil
…the following animal and allergen ingredients: animal fats, collagen, bee's wax, honey, royal jelly, propolis, nut shells and nut oils including argan (We do allow mandelic acid which is derived from almonds. Please inform us if you have an allergy prior to receiving a service.)
Please note: our keratin lash lifting treatment and lash and brow tints contain ingredients we exclude from skincare. The product is removed upon completion of the service.
Don't worry -
we don't have a purity complex
don't feel like you need to already have the perfect routine to come to Holiday. you certainly don't!
We're happy to meet you where you are and help guide you. We all weigh pros and cons to make decisions on incorporating healthy habits. 
Maybe it's just one product that you switch to try clean beauty from your conventional product routine. Maybe you use all clean beauty but love getting Botox injections. Maybe you eat organic but just gotta roll through the drive-thru for a shake when the temperature breaks 95 degrees.
We're not perfect in our personal routines either 🙂 We support you wherever you are!
education on ingredients:
Environmental Working Group – Creators of the Dirty Dozen and Clean Fifteen. This is a place to start when learning about an ingredient you don't recognize. Keep in mind, it's just research information. They don't give a full perspective on skincare applications. If an ingredient has a high rating then turn to other publications like mindbodygreen for the scoop
Credo – They offer extensive information explaining ingredients and what meets their clean beauty standard. It is an ever-evolving list
…and our brand partners!
  Hylunia – Learn about the most nourishing ingredients and their benefits for skin
 Blissoma – Love their blog: thoughtful trending topics, deep dives, and how-to's
easy peasy clean beauty shopping:
Holiday Clean Beauty Spa – Yes! We retail the brands we use in our facials and a few other gems. Most importantly we'll put esthetician eyes on your skin and get the right products / ingredients into your routine
Cambridge Naturals – For all corporeal wonders: bulk herbs, tea, tinctures, bath bombs, chocolate, vitamins, body care, and more. Our favorite is the Porter Square location
Credo on Newbury Street – They love to shop with you! It's our favorite place for new makeup and just to pop by to feel their sunshine
ready to feel the power of clean beauty?