...the magic that happens here happens in silence...
and ofc we can talk about the vibey transformation
timeframes includes greeting, energy clearing before getting on the treatment table, discussion on energy needs or goals for the session, and integration time before leaving the spa
crystal chakra alignment with face + scalp massage
60 minutes / $125
crystals are beautiful, sentient Earth beings to work with. each having unique properties to assist in energy clearing, healing, and building of the chakra system
in this energy experience, a variety of crystals are placed over the 7 major chakras within the body and the Earth Star and Stellar Gateway transpersonal chakras outside of the body. each placement is amplified with a lemurian quartz star pattern
gentle marma point face and scalp massage with hydrating oils and hot towel amplifies the energy flow experience

additional energy clearing methods may include sound clearing, chakra oils, and sacred mists. 
this energy experience does not include a facial treatment
90 minutes / $245
this is not simply a facial. it is deep energy channeling. it is restorative neck, face, and scalp massage
the healing mechanism is an ancient ayurvedic massage technique for activating portal points on the body that open connection between your five energy bodies: physical, mental, emotional, energetic/auric, and spiritual
crystal chakra placements with Earth and cosmic energies channeled by your practitioner clear your aura, center your chakras, and bring in a boost of fresh energy
just add modern skincare and boompop(!) you've got a full being glow out with exfoliated dewy skin
90 minutes / $245
the same marma technique and modern skincare as above paired with channeled universal reiki energy and crystal palm stones to align you with your pure infinite potential. depending on your facial needs, this treatment includes 20 – 30 minutes of reiki during while masking under the infrared LED light
the experience energetically anchors you to the Earth's molten core and tethers you to the stars
60 minutes / $125
a Japanese energy healing technique to promote relaxation and stress reduction by balancing the body's energy field through channeled white light frequency
Reiki brings you back into alignment with your natural place in the universe as a being of true balance, harmony, and peace
the treatment can be performed with or without gentle touch. the recipient may feel relaxed, warm, calm, peaceful, or even drift into a meditative sleep, and some experience colorful synesthesia. some may feel a profound shift or a subtle rejuventation
Receive a fresh boost of Earth and Spirit / Universe energy to embody a state of flow and alignment.
Crystals are beautiful energies to work with for healing, self development, or simply energetic elevation. That's right! "Crystals are" not "crystals have". They're sentient Earth beings.
Placing crystals on the body allows them to interact with your chakras which are energy centers of your subtle energy body within your physical body. They also interact with your auric field which is comprised of layers of energy outside and around your physical body. Chakras and auras are part of the ayurvedic system and come from Indian culture.
The crystal placements help to release, clear, build, and ultimately cycle and refresh your energy body. This experience may feel subtle and peaceful or more pronounced.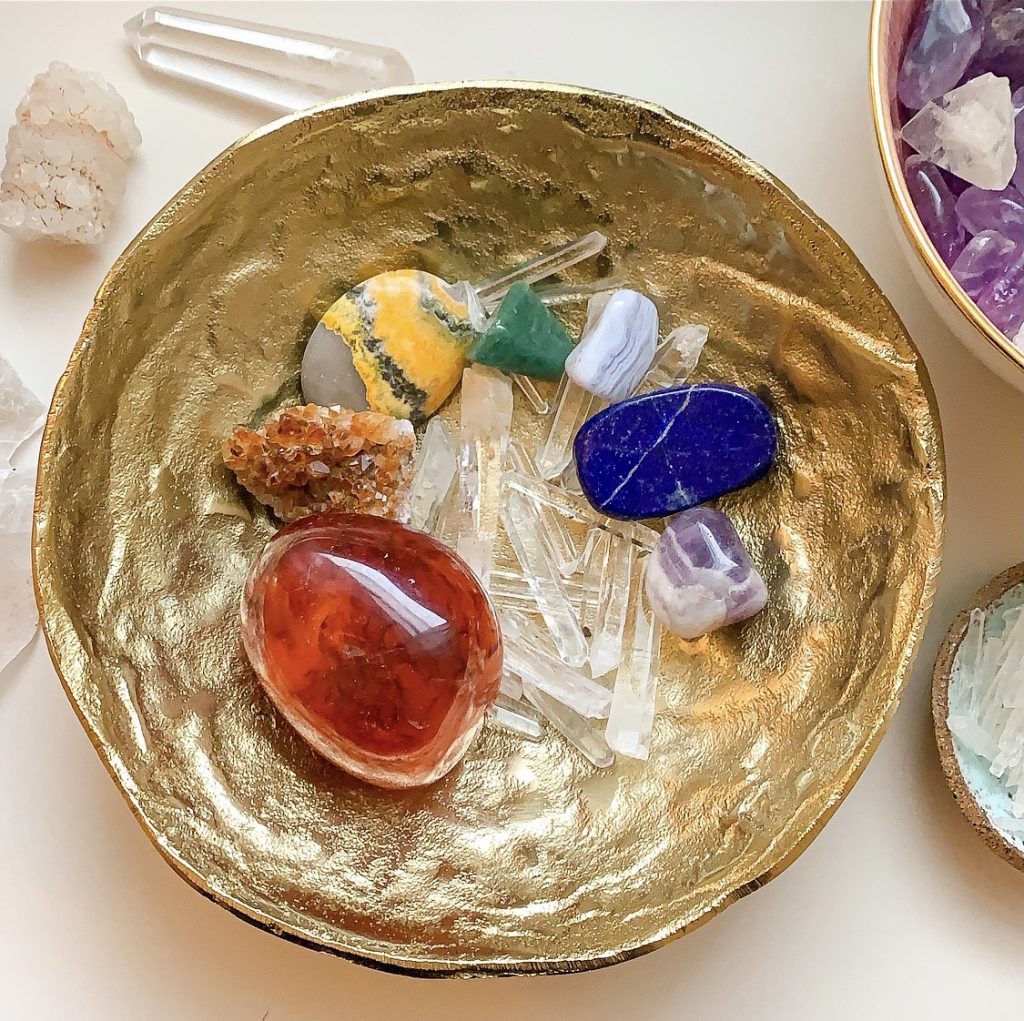 let's reset and amplify your energy!